Curriculum of additional education
Recently programs of Management Education have become the most priority in Russia. In the present conditions of new high technology development it is necessary to prepare successful managers, project directors having extra business education.
The Second Higher Education Program was opened in 1999. It has been successfully conducting training for Bachelor of Business Administration for 9 years.
We recommend this rpogram for:
CEOs
Managers
Accountants, auditors
And everybody who wants to get excellent business education
The success of IBE Bachelor of Business Administration Program is confirmed by job placement of graduates in such companies as STS, Mosmart, ORGA, American Express, Henkel, VOLVO, Kelly Services, Sun Interbrew, SONY, Samsung, MOTOROLA, Ernst&Young, Pepsi Bottling Group, Procter&Gamble, British Petroleum, Hilti, Marriot, Young & Rubicam, etc. The first graduates of the IBE Second Higher Education (2001) included the Prefecture of Zelenograd representatives and Himki administration.
IBE educational approach has six competitive advantages:
Case study method.
Advanced study of English.
Acquisition of practical communication and teamwork skills.
Job placement.
Distinguished career.
Interesting professional life.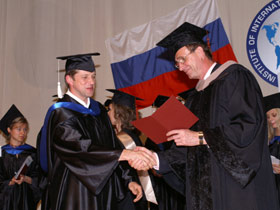 Other distinctions of our educational program are also different methods of training (teamwork, seminars, and round-table discussions, modern training aids (computers, video, projectors), providing students with handouts, etc. IBE professional lecturers create an atmosphere of cooperation, communicate interactively with students, and exchange experience with each other.
Program duration is 2 years including 4 semesters (night classes) and 1 module (2 weeks trainings between the 1st and the 2nd semesters), and defence of degree works.
Studies: Tuesday and Thursday – 6.30–9.20 p.m., Saturday – 9.00 a.m. –2.00 p.m. During the module — from 9.00 a.m. to 4.40 p.m.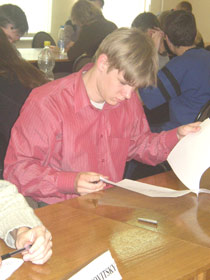 Curriculum:
1st semester: Information science, Management, Marketing, Business accounting, Microeconomics, Mathematical methods in Economics, English.
Module: Market Research, Leadership and Communications, Total Quality Management, English.
2nd semester: Taxation, Human Resources, Financial Accounting, Macroeconomics, English.
3d semester: Financial Analysis, Science of Business Law, Marketing Research, Innovation Management, English.
4th semester: Socio-economic Statistics, Audit, Project Management, Strategic Decision Making, Antirecessionary Management, Strategic Management.
Actions needed for applying to IBE Second Higher Education Program:
1. Application form.
2. Copy of the certificate of degree and the enclosure.
3. 6 photos.
4. Copy of the passport.
Tution fee— 43 300 rubles per semester and 33 400 rubles for module in 2008–2009 academic year. The payment are made with payment form in any branch of Sberbank. Bank transfer expenses are the responsibility of students.
New academic year will be started in October. Organizational meeting is held in the end of September.
If you dream of a brilliant career —
welcome to IBE!