Curriculum of undergraduate education
The Institute of International Business Education (IBE) conducts training for Bachelor of Business Administration. The BBA Program takes four years, including at least an 8-week internship. Classes are taught by both Russian and visiting foreign faculty (predominantly American).The specializations are the following: Human Resources, Marketing, Accounting, and Finance. The curriculum is developed in compliance with the requirements of the State Educational Standard. IBE educational program also involves the same disciplines as western business schools include.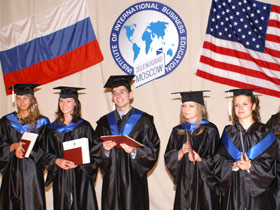 IBE has the state licence A # 283118 granted by Federal Educational and Scientific Service on October 24, 2007 and accreditation (Certificate of the State Accreditation AA # 001382 granted by Federal Educational and Scientific Service on June 23, 2008). It means that IBE has all rights and privileges of the state university.
More than 100 Moscow universities train high-class managers now. We train not only managers but leaders.
Main advantages of IBE educational process:
1. Teaching the business disciplines by outstanding Russian and foreign professors.
Students successfully passed exams to foreign professors obtain The Tulsa University Certificate (Oklahoma, USA) in addition to the Russian State Diploma. This Certificate in Business Administration is of a great value when graduates get a job.
2. Language training.
The students have an opportunity to learn two languages. English is the main foreign language. The second foreign language is chosen by students: German, French or Spanish. The program of studing English enable students to listen to foreign professors, understand English speach, and take exams.
3. Teamwork: practical and communication skills.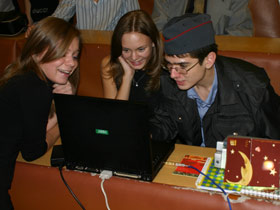 The IBE educational process is generally based on the management features of international companies. Students fulfil both the individual tasks and group projects and then make final presentations. In teamwork the students show and perfect their leadership and time-management skills, develop an ability to delegate and communicate efficiently for achieving team goals.
4. Employment assistance: internship and career.
In 2000 the official opening of the IBE Student Career Center was held. The purpose of our Center is to assist the IBE students and graduates in their pursuit of finding work opportunities (both part-time and full-time) to fully utilize their excellent business education and natural abilities. The IBE Annual Career Days are usually held in November.
The skills and knowledge achieved by our students should help them to set up their own businesses or to start successful careers in leading international and local companies.
5. Modern teaching techniques.
IBE library stock contains more than 12000 books and periodicals both in English and in Russian. IBE computer classroom is equipped up-to-date hardware and software. Each student and employee has a free access to the Internet. Each professor prepares presentations and handouts for students. It permit the students to concentrate their attention on theoretical and practical material and make the notes when it is necessary.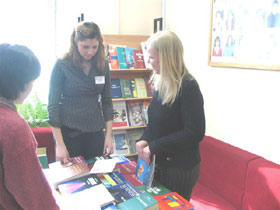 6. Case study.
Styding of special disciplines is based on contamporary western and Russian methods.One of them is case study method (teaching based on the examples from real business practise), worked out by theHarvard University at the beginning of the XX century. IBE regularly exchanges experiences with other educational institutions in order to improve teaching methods on continuing basis.
7. The newest curriculum.
The content of IBE educational program is balanced with a view to the interdisciplinary approach, auditorium block and separate entity, general and specific subjects, bringing Russian and English subjects into proper correlation. This approach allow students to combine study with the rest and provide high quality of graduate' knowledge and skills.
Management

Introduction into Management
Management
Financial Management
Management Information System
Strategic Decision Making
Strategic Management
International Management
Crisis Management
Organizational Behavior
Innovative management
Management of the personnel

Economics

Introduction to the Theory of Economics
Microeconomics
Macroeconomics
Statistics
Basis of International Trade
World Economy and International Trade
E-commerce
Finance, Monetary Circulation and the Credit

Finance and Accounting

Principles of Accounting
Introduction into Accounting
Financial Accounting
Hard Currency Accounting Operations
Managerial Accounting
Taxation
Audit
Financial Analysis

Marketing

Principles of Marketing
Marketing Research
International Marketing
Marketing Management
Industrial Marketing

Marketing

Principles of Marketing
Marketing Research
International Marketing
Marketing Management
Industrial Marketing

Humanities

History of Russia
Business Protocol and Etiquette
History of Philosophy
History of Religious Thought
History of the USA
Aesthetics
Culture Studies
Sociology
Culture of Russian Speech


Natural Sciences

Basics of Mathematical Analysis
Linear Mathematics
Computer Science
Basics of Natural Science
Theory of Probability and Math Statistics

Foreign Languages

English Language for Business
German/ Spanish / French Language for Business

Politics and Law

Theory of State and Law
Entrepreneurial Law
International Business Law
Political Science
The students have 8 hours (4 studies) in class per day (for five days a week over the academic year). The beginning of studies is at 9 a.m. One study lasts 2 academic hours (or 80 minutes). The students have ten minutes as a break between studies and a lunch-hour at 12.00.
We offer to attend the Preparatory classes organized for senior pupils to help them apply to IBE. Three cources, Mathematics, English, and Management, are given during 8 months (from Oktober to April).
The IBE undergraduate education fee is 58,000 rubles per semester in 2008–2009 academic year. The payment are made with payment form in any branch of Sberbank. Bank transfer expenses are the responsibility of students.
If you dream of a brilliant career —
welcome to IBE!